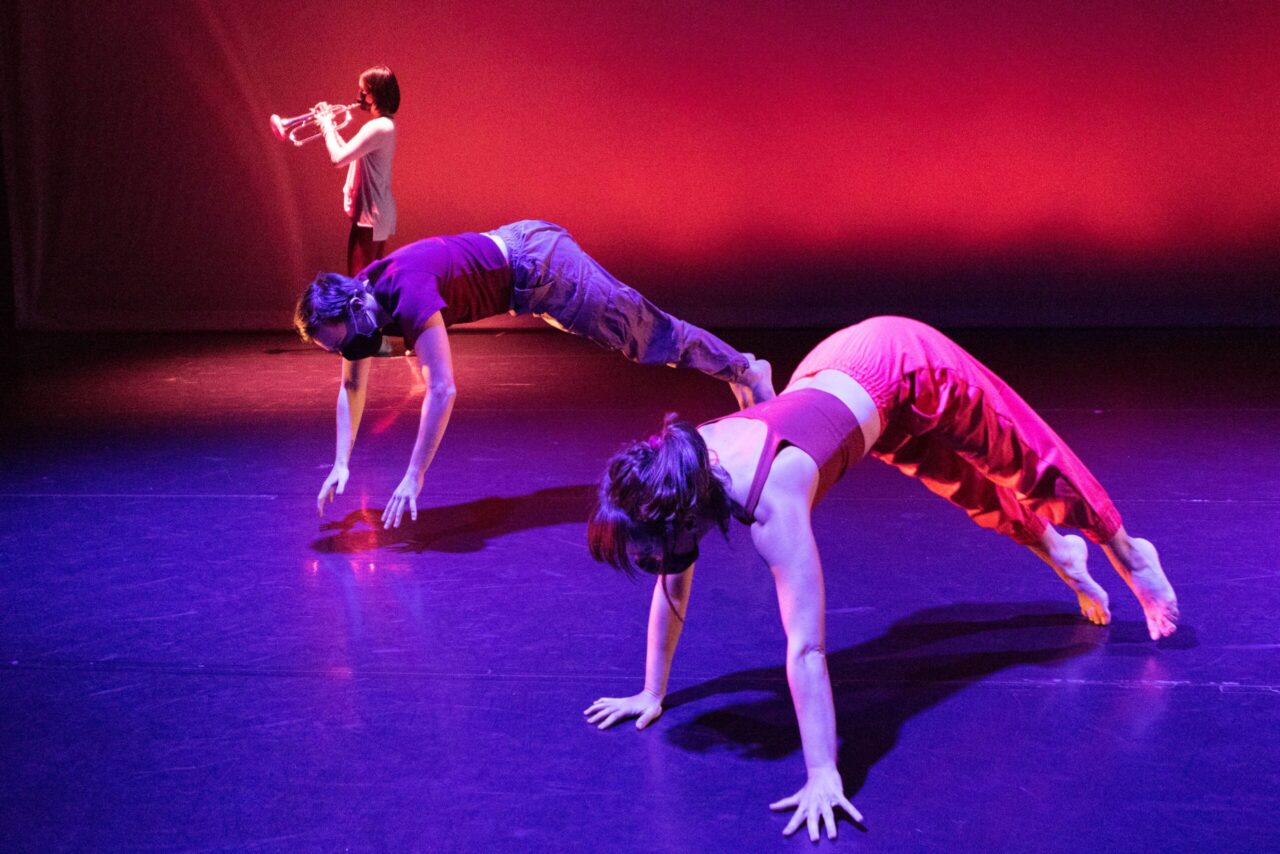 Requirements
The program of study requires 12 hours of credit. Students will have the opportunity to engage in independent study and performance but will not be required to funnel their work directly into an extensively produced performance artifact and thesis as is required in the MFA degree.
Danc 510: Graduate Seminar/Special Topics—4 hours
Danc 541 or Dance 542: Contemporary Directions—2 hours
Danc 462: Composition Workshop or Danc 562: Graduate Creative Process—2 hours
Danc 560: Advanced Physical Practice—2 hours
Danc 550: Advanced Research through Independent Study for 2 hours or an additional 2 hours of Composition or Contemporary Directions
Total: 12 hours
Prerequisite: graduate student standing
Admission
Admissions to the minor will be monitored by the MFA in dance program director. Students will be required to have successfully completed one of the required graduate minor courses prior to official admission to the program. Prospective minor candidates will be required to provide a letter of endorsement from their home department advisor that is co-signed by their home department graduate program director.
What our Grad Minors are saying about our program...
Being a grad minor in dance during my PhD program in landscape architecture has obviously been a way for me to pursue my reflection on topics shared by both fields (phenomenology, bodily movements, place versus space, politics of agency, …). But unexpectedly, it has also been an opportunity to learn more about other forms of inquiry, performative aspects of existence, and values of participatory work. As a result, having a transdisciplinary approach with the dance minor program helped me enrich my scholarship and build more confidence as a teacher with a student audience and as a person within a community. Most of all, I met enthusiastic, positively unreasonable, and passionate graduate students and faculty, leading me to insightful interaction and meaningful friendship.
– Alexandre Hubert Champagne, PhD student in Landscape Architecture 2022/23
My time with the Dance Department, taking classes, sharing time with students, working closely with some grads, and witnessing the overall rigorous dance scholarship and practices at Dance at Illinois was life changing. So much so, that my dissertation methodology is movement-based (even having to develop my research between 2020-2022 within the pandemic) and Jennifer Monson has been a fundamental mentor and part of my doctoral committee. My scholarship and creative practice as it exist today, an interdisciplinary approach that engages movement epistemically and methodologically to study pedagogy and knowledge with a feminist perspective, would not have been possible without my time being a graduate minor at the Dance Department.
-Catalina Hernandez-Cabal, PhD Art Education 2022
I am thankful for Dance at Illinois for their willingness to let me study with the faculties/colleagues of excellent dance scholars and artists. The discussions at the graduate seminars were always intriguing and stimulating. They made me think deeper about the intersections of movements, aesthetics, body politics, and society. Dance practicum classes helped me to explore my body/mind through movements, creating scores, choreography, improvising, and observing.  Also, I am grateful to have had an opportunity to share my dance language from rural Japan with the department at the end of the semester.
-Saori Kataoka, MFA Music