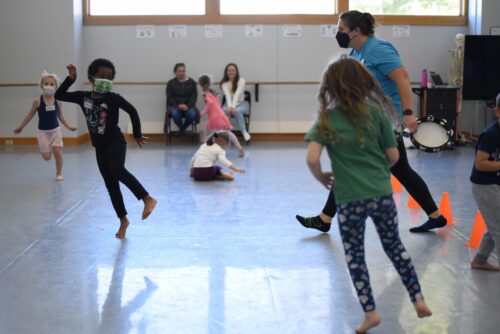 details
Come Dance with Us!
Creative Dance for Children is a fun and engaging community program offered by the University of Illinois Department of Dance. Director Betty Allen and students of Dance at Illinois develop and teach creative sessions for children ages 4-10. This child-centered program focuses on learning and understanding dance concepts, developing social skills and creative expression, improvising and dance making through movement explorations and free movement.
Fall 2023 classes begin on Saturday, September 9 – November 4 (no classes on Saturday, October 21).  Spots are limited.
When do classes meet?
Classes are on Saturday mornings.
Fall (September – November) and Spring (February – April).
Where are the classes held?
Dance Studio Building, 905 W. Nevada St, Urbana. Classes are closed to caregivers except on "Informance" days.
What do we do in class?
We utilize a 5-part lesson plan using Anne Green Gilbert's Brain Compatible Dance Education as our model and inspiration. Class begins with a developmentally appropriate "warm-up" called the BrainDance. The BrainDance helps prepare our brains for concentration, social interaction and learning while getting our muscles ready for movement. Next, we "introduce the concept" of the day as we learn the vocabulary and meaning of one or more dance concepts such as shape, direction, pathway, etc. We "explore" these concepts through various activities and improvisations. During the "developing skills" portion of the class, we combine movements together in a variety of ways like traveling across the floor, moving through an obstacle course, or learning a folk dance. Next, we learn dances or create our own during our "create" portion of class. At the end of class, we "cool down" and reflect on our learning and creative movement.
What should students wear to dance class?
Loose-fitting, comfortable clothes that are easy to move in and bare feet.
Are classes based on skill level?
Unlike other studio programs, our classes emphasize creative expression over technical training, therefore we group by age.
For more additional information contact Betty Allen: creativedance@illinois.edu
**8-Week Session (Saturdays) at Nevada Dance Studios**
September 9 – November 4 (no classes on Saturday, October 21)
Cost: $120 for 8-week session (Creative Dance for Children t-shirts available for an additional $15, optional)
Additional class information will be sent by email prior to the first-class session.
Class Schedule
Ages 4/5        9:00-9:45
Ages 6/7        10:00-10:50
Ages 8-10      10:00-10:50